Lubrication Basics for Machinery Operators Training DVD
Description
Operators trained in lubrication basics are critical to lubrication excellence. Whether they are checking oil levels and topping off sumps, cleaning and inspecting machinery, or conducting routine inspections … when performed with best practice procedures, you'll reduce unscheduled downtime, improve safety and boost reliability. VIEW PREVIEW
Provides Concise Training On:
Grease gun basics and safety
Checking oil levels and topping off sumps
The function of lubricant additives
The importance of contamination control
Cleaning and inspecting machinery
Avoiding water contamination during wash downs
Onsite inspections for in-service grease
Visual and audible machine inspection techniques
Oil sump and machine temperature inspections
How to inspect for oil leaks
The critical role of lubrication in machinery
Machine lock out-tag out requirements
The negative impact of mixing lubricants
Basics of viscosity and lubricant selection
Types of lubricant contaminants and damage caused
Format:
DVD
Length:
28 minutes
License:
Unlimited use at one facility or location
Also Included:
One student workbook
Also Available In:
Spanish
Who Will Benefit:
Lubrication Professionals
Maintenance Professionals
Craftsmen and Millwrights
Equipment Operators
Oil Analysis Professionals
Plant Engineers
Student Workbook Included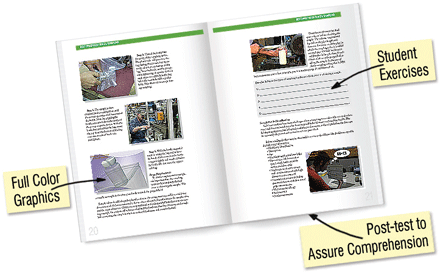 The accompanying Student Workbook was developed directly from the video script to help reinforce the information and includes full color graphics, student excercises and a post-test to assure comprehension.
One Student Workbook is included with each training video. You may order additional workbooks in quantities of 5, 10 or 25:
Because each workbook includes student exercises, a post-test and an area for note-taking,
it is advisable to purchase a workbook for each student.
Purchasing for multiple locations?
Check out the Enterprise Server version.
More items to consider